15 Nov 2022
Cohesity Announces New Data Security Alliance with Industry Heavyweights in Security and Services to Collectively Help Enterprises Win the War Against Cyberattacks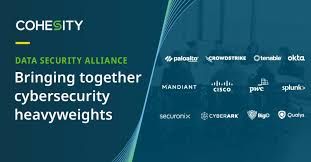 Source: https://www.cohesity.com/press/cohesity-announces-new-data-security-alliance-with-industry-heavyweights-in-security-and-services-to-collectively-help-enterprises-win-the-war-against-cyberattacks/
Cohesity, a leader in data security and management, today announced partnering with the 'who's who' of cybersecurity to give customers more ways to win the war against cyberattacks.
The Data Security Alliance combines best-in-class solutions from industry leading cybersecurity and services companies with exceptional data security and management expertise from Cohesity. Partners in the ecosystem include: BigID, Cisco, CrowdStrike, CyberArk, Okta, Palo Alto Networks, Securonix, Splunk, and Tenable, with new security advisory relationships with Mandiant and PwC.
Security complexities cannot be solved by one vendor alone. According to research commissioned by Cohesity, nearly half of organizations (47%) were hit by ransomware attacks in the first half of 2022.
When an organization is the victim of an attack, companies want to detect and stop the attack as soon as possible, avoid paying the ransom, and if necessary, recover core business operations as quickly as possible. To achieve these goals requires close collaboration and integration of security and data management solutions and services.
This new Data Security Alliance collectively brings together the boldest solutions and the brightest minds in security to provide customers with a comprehensive approach that integrates data protection and resilience into an end-to-end security strategy. This strategy starts at prevention, extends to early detection and protection and also includes rapid recovery — critical in the event of a cyberattack
Partners will be able to leverage the Cohesity Data Cloud in a variety of ways to help joint customers advance their security posture. For example, with Cohesity, partners can leverage Cohesity's AI-based anomaly detection to gain early insights that an attack may be in progress and accelerate response and remediation. Cohesity's API-first approach makes it incredibly easy for security partners to join the alliance and integrate their solutions with Cohesity's data security and management platform — essential as the battle to defeat cyberattacks continues to evolve. Additional details on the partners can be found below:
BigID: Drives visibility and control for all sensitive & critical data helping organizations understand and minimize data risk across the cloud & on-prem with a data-first approach – for data security, privacy, compliance, and governance.
Cisco: SecureX is a cloud-native solution with XDR capabilities that integrates the Cisco Secure portfolio with the entire security infrastructure, speeding detection, response, and recovery. When a ransomware attack strikes, customers can initiate workflows for Cohesity to restore data and workloads.
CrowdStrike: Secures the most critical areas of enterprise risk – endpoints, cloud workloads, identity and data – to keep customers ahead of today's adversaries and stop breaches.
CyberArk: The CyberArk Identity Security Platform enables unparalleled protection of any identity – human or machine – across the widest range of devices and environments from a single, comprehensive platform.
Mandiant: Industry-leading threat intelligence and expertise drive dynamic solutions that help organizations develop more effective programs and instill confidence in their cyber readiness.
Okta: The leading independent identity provider offers platform and services for workforce identity and customer identity.
Palo Alto Networks: Cortex XSOAR provides the automation and flexibility that allows enterprises to more quickly manage cyber and ransomware attacks.
PwC UK: Offers a full suite of advisory, implementation and managed security services to enable organizations to build their cyber security defenses and respond effectively to cyberattacks.
Securonix: Delivers a solution to defend against advanced threats in today's complex hybrid environments. Securonix Next-Gen SIEM is powered by the most advanced analytics and built on a scalable, flexible cloud-native architecture.
Splunk: Provides an extensible data platform that delivers unified security, full-stack observability, and custom applications.
Tenable: Empowers organizations to understand and reduce their cyber risk by providing visibility across the entire attack surface. Tenable.io powers Cohesity's CyberScan to easily assess data backup environments, which can be used as a proxy for sensitive production environments as well as ensure that a recovery situation does not introduce vulnerable conditions into production.