Disruptions from Ransomware and Cyberattacks on Supply Chains and Critical Infrastructure Sharpen Focus on OT Security for 2023, TXOne Networks and Frost & Sullivan Analysis Reveals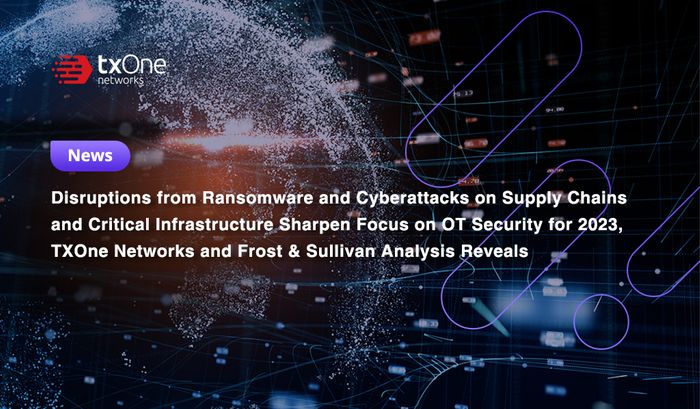 TXOne Networks, global leader of OT-native security solutions for ICS, delivers an in-depth report on the contemporary threat landscape
TAIPEI, Taiwan, Feb 28th, 2023 – TXOne Networks, a global leader in the industrial Internet of Things (IIoT) security, published its 2022 annual report detailing growth today in disruptive ransomware extortion and attacks on supply chains and critical infrastructure assets. Insights Into ICS/OT Cybersecurity 2022, which is publicly available for free download, delves into the driving forces in industrial control system (ICS) security, such as convergence of operational and information technology (OT and IT), intensified regulatory focus, rise in trade protectionism globally and heightened awareness of potential losses from attacks on the OT environment.
Produced in collaboration with Frost & Sullivan, Insights Into ICS/OT Cybersecurity 2022 is based on a survey of 300 C-level officers, directors, and other managers with varied organizations in advanced manufacturing countries around the world. The report provides an in-depth analysis of the contemporary OT threat landscape and delivers actionable information that organizations can leverage in developing practical, operations-friendly approaches to OT cyber defense.
When it comes to cybersecurity, technology leaps forward at an accelerated and unpredictable pace, which means that threats posed by bad actors only stay on the horizon briefly before becoming a dire reality. For this reason, TXOne Networks has taken a close multilayered look at the recent history of OT security in 2022 and reported their findings in Insights Into ICS/OT Cybersecurity 2022. Researchers investigated the way the threat landscape changed last year, given 2022's emergence of Ransomware as a Service (RaaS) offerings. Ecosystem-complete services such as Black Basta, Pandora, and LockBit 3.0 employed ruthless multiple-extortion strategies that are likely to persist across critical manufacturing, energy, agriculture, healthcare, and public health industries with an especially significant impact on the automotive sector, further precipitating the need for OT-specific taskforces and solutions. The report also includes regulations set forth by governments to bolster cybersecurity defenses against looming global threats as geopolitical tensions continue to rise, turning cybersecurity into the law of the land. Additionally, TXOne explains the market forces that are also driving verticals across the board into investing in OT-specific security and how organizations are expanding their budgets for OT and getting ready for widespread adoption. Read here for a comprehensive breakdown on all these factors and the way they holistically form the big picture of OT cybersecurity in recent history and in the near future.
"In ICS/OT, there are many constraints imposed by design. Addressing security issues under such circumstances requires a unique set of solutions and methods, as opposed to repurposed approaches from IT," said Terence Liu, chief executive officer (CEO) of TXOne Networks. "OT-native cyber defenses for ICS/OT are entering the mainstream. As ICS/OT evolves over time, new technology adoptions like IIoT, hybrid cloud and 5G networks will continue to ramp up, and visionary solution providers are preparing for that future."
Download TXOne Networks' Insights Into ICS/OT Cybersecurity 2022 at: https://www.txone.com/security-reports/insight-into-ics-ot-cybersecurity2022/