09 Mar 2023
Domo Named a Winner in the 2022-2023 Cloud Awards for Cloud BI and Analytics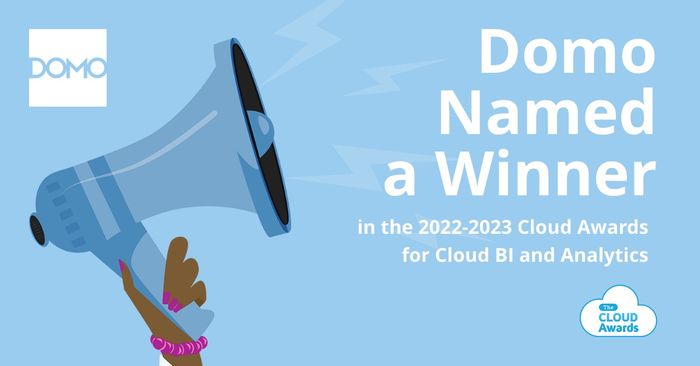 Domo Apps has been named the winner of the Best Cloud Business Intelligence or Analytics Solution in the international cloud computing awards program, The Cloud Awards.
"Domo Apps deliver an impressive and comprehensive solution to businesses that require multi-source data-driven solutions," said Christopher Southall, lead judge at The Cloud Awards. "The range of connectors and use of low-to-no code solutions in providing smart insights and analytics really impressed the judging team at The Cloud Awards. Domo Apps are a serious contender in this highly competitive field."
Domo Apps bring the benefits of data-driven decisions and actions to those who are underserved by traditional business intelligence (BI) and analytics. They go beyond charts and graphs to embed data, analytics and workflows into existing apps and processes where work is already happening. People at every level of an organization – from CEOs to frontline workers – benefit from a personalized, standalone Domo App that impacts their work and ability to succeed – all accessible through their mobile device.
"Domo Apps turn analytics into insight-creating, action-driving applications, harnessing the power of data in its most useable and actionable form," said Domo's chief technology officer Daren Thayne. "They are a quantum leap in utility from traditional BI dashboards which never go beyond merely providing insights. Domo Apps offer highly-curated data experiences that enable anyone to automate business processes and take informed actions that multiply business impact."
To learn more about how Domo Apps turn insight to action, visit www.domo.com/intelligent-apps