02 Mar 2023
Tech Week Singapore Presents: Must-Attend Summits For Asia's Top Business Leaders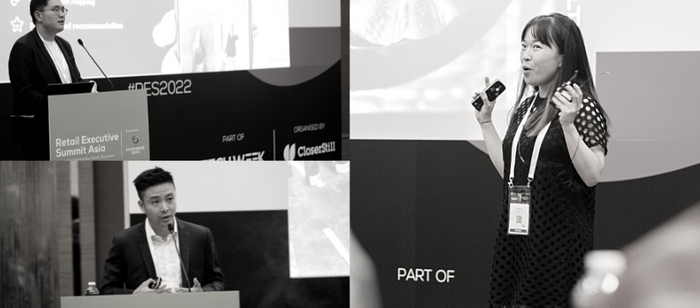 CloserStill Media, a world-leading producer of market-leading events, has announced three invite-only Summits for Asia's top C-level executives and senior decision-makers, presented by Tech Week Singapore.
The Retail Executive Summit, Smart Cybersecurity Summit, and the brand-new Data & AI Leaders' Summit will take place in Singapore at Marina Bay Sands across the month of April.
The Summits deliver outstanding conference content as well as a break-out area for brands to showcase trailblazing innovations. This structure offers unique opportunities to stay abreast of the latest technology developments, form valuable partnerships, and discover ground-breaking solutions.
"After a record-breaking year for Tech Week Singapore in 2022, there is no doubt that the appetite for knowledge sharing and networking is insatiable," said Andy Kiwanuka, Managing Director for Asia Pacific at CloserStill Media. "These Summits are essential for businesses to stay ahead of the competition."
All three Summits will also include lunch and post-event networking drinks for the all-important networking with fellow business leaders.
Applications for all Summits is now open and can be accessed via To create a value-driven experience, the Summits are exclusive to C-Level leaders and senior decision-makers.
The Exclusive Retail Event for Enterprise Executives
Happening on 6 April at Marina Bay Sands, the Retail Executive Summit Singapore will be a place to revolutionise retail businesses within the highly competitive, yet lucrative, eCommerce space in Singapore.
"This is the place to unlock the secrets to success from esteemed experts who have conquered last-mile delivery and empowered tech-savvy customers," said Indiana Forrest-Bisley, Group Event Director for Retail Executive Summit Singapore.
Critical topics like omnichannel development, innovative customer engagement, marketing automation, cross-border commerce and logistics will be covered by experts, including:
Edouard Delvaux, APAC Digital Commerce Lead for Colgate-Palmolive
Sharon Tan, Head of Digital Commerce – SEA for Kellogg's
Kent Teo, CEO and Founder of Invade
Ground-breaking eCommerce solutions will be showcased by impact.com, Nuvei, Overdose, Shippit, and VTEX.
Protecting Businesses from Future Threats
More than 350 cybersecurity pioneers and business leaders looking to defend their people and assets against cybercrime are expected to attend Smart Cybersecurity Summit Singapore on 13 April.
Almost half of businesses in Singapore experienced a cyber incident, according to Kroll's APAC State of Incident Report 2022.
"The threat landscape is constantly evolving. The time is now to come together in an effort to bolster the cyber resiliency of our digital ecosystems," said Dominic Pinfold, Group Event Director for Smart Cybersecurity Summit Singapore.
With their complimentary ticket, business leaders can gain actionable advice on implementing zero trust models, tackling the skills shortage, making returns on security investments, and more.
Expert-led sessions will feature:
Richard Wong, Senior VP at Frost & Sullivan
Veronica Tan, Director for the Safer Cyberspace Division at the Cyber Security Agency of Singapore
Dr Carrine Teoh Chooi, Chief Strategy Officer of Bond Holdings
Leading cybersecurity solutions will be presented by BeyondTrust, Illumio, Palo Alto Networks, Proofpoint, SentinelOne, and StarHub.
Driving Innovation for a Better Future
The Data & AI Leaders' Summit Singapore is an exclusive event for data, analytics, and AI leaders to connect and find solutions that positively contribute to Singapore's goal of becoming a big data hub and world leader in AI adoption.
"Big data and AI uptake is often hindered by complex data silos, poor data quality or skills shortages. This Summit showcases inspiring case studies and stories of success from distinguished leaders who have harnessed their data to make better business decisions," said Neil Halliday, APAC Director for the Data, Analytics & Artificial Intelligence Portfolio at CloserStill Media.
Trending topics such as generative and conversational AI, data management, governance, and sovereignty will be discussed in collaboration with industry experts at Data & AI Leaders' Summit on 27 April at Marina Bay Sands.
Presenting innovative ideas at two leading conference theatres will be:
Geetha Gopal, Head of Infrastructure Projects, Delivery and Digital Transformation at Panasonic Asia Pacific
Sachin Tonk, Deputy Chief Data Officer at GovTech
Samuel Chu, Head of Data Science and Analytics for Singlife with Aviva
Cutting-edge solutions to drive businesses into the future will be exhibited by Aerospike, Alteryx, Azul, Collibra, Confluent, Fivetran, and Juniper Networks.
C-Suites, business leaders, and end-user professionals are welcome to apply for their complimentary ticket on the Tech Week Singapore website.